Our physiotherapy clinic specializes in the treatment of musculoskeletal conditions, such as back, neck, joints and muscle pain or injuries. All provided treatments in our clinic are carried out by our highly qualified and well trained physiotherapist.
The following are the range of services that we provide: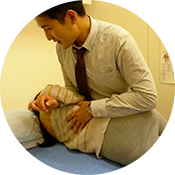 Orthopedic Manual Therapy
A hands on treatment which is based upon a detail examination of patients' condition and movement patterns. This treatment can help to adjust spinal problems that cause neck and back pain; and improve the quality of joint movements such as shoulder and knee by applying a specific soft tissue technique.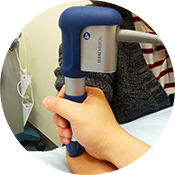 Shockwave Therapy
A new treatment option which is ideally indicated for plantar fasciitis, heel pain, or heel spur; tennis elbow, tendinosis calcarea/supraspinatus-tendon and insertional tendonitis. It helps to stimulate the body's own healing ability, provides an immediate reduction of pain and improves mobility and function.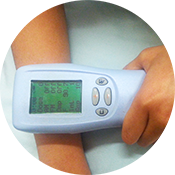 SCENAR (Self Controlled Energo Neuro Adaptive Regulator) Therapy
SCENAR is a hand-held, electro stimulation therapeutical medical device. It is a very effective electrotherapy modality which helps to reactivate the body's self-regulatory mechanism, improves circulation in the treatment area and act as a pain relief.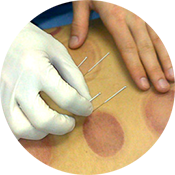 Trigger Point Dry Needling
Also known as Western Style Dry Needling. This treatment helps to relieve trigger points for tight and tense muscles and is especially beneficial for patients who have chronic pain or sports injury such as sprain, muscle cramp, tight shoulder muscles, lower back pain and foot pain (plantar fasciitis).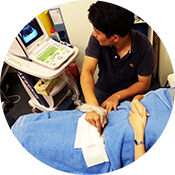 Real Time Ultra Sound Assessment & Training
An ideal method for patients who have chronic lower back pain and pelvic floor disorders. Patients will learn to control postural / core muscles and pelvic floor muscles through visual feedback on the spot. It is a very effective way to provide feedbacks concurrently as this ensures the patients are doing the exercises correctly to strengthen their core muscles.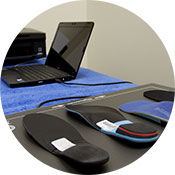 Gaitscan Assessment & Orthotics
A prescribe heat mouldable orthotics for patients who suffer from foot and leg pain or other complaints related to the foot position such as knee and back pain. A gait scan assessment will be conducted to identify and analyze patient's foot problem with a computerized device, and then a customized orthotic will be made for individual patient.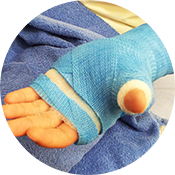 Splinting & Casting
A variety of materials is provided to tailor a specific splint or cast to suits patient's who suffered from sprain or fracture at joint or bone. The main purpose for this service is to immobilize orthopaedic injuries, promote healing by maintaining bone alignment and protect the injury.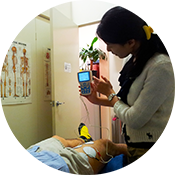 Medical Fitness Training
A medical fitness training for patients who have work related injuries. If in any case where patient's fitness level is not suitable for their work duties, physiotherapist will retrain the patient in a gym setting and provide advices in order to assist patient to return to his or her workplace.